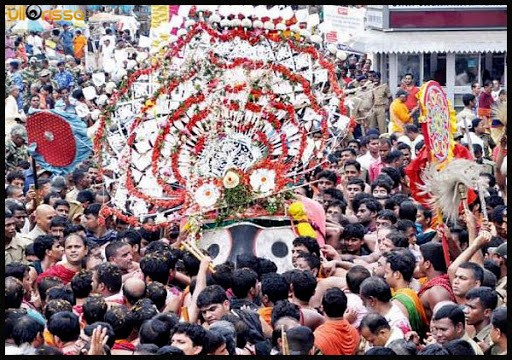 Like last year, this year too devotees in Puri and other parts of India celebrated Jagannath Rath Yatra during COVID – 19 pandemic.
COVID – 19 has indeed affected the celebration of world famous Jagannath Rath Yatra. In Jagannath Rath Yatra at Puri and in other cities thousands of people would participate to pull the chariots of Lord Jagannath every year.  But COVID – 19 pandemic has shutdown the entire world –offices are closed, schools & colleges are closed and temples are also closed.
The killer Covid -19 Pandemic which started last year, 2020, is still killing people across the world. Few months back the 2nd wave of Covid created mayhem in India killing thousands of people. The country was almost shutdown.
Rath Yatra celebrated in Puri during COVID without huge procession
Last year during the Rath Yatra time there was lockdown in India. Everything was closed including the temples. This year too the temples were closed. In 2020, the Supreme Court of India allowed Rath Yatra procession only in Jagannath Puri and this year too Rath Yatra procession was allowed only in Puri. In Puri also only the priests and devotees traditionally associated with Rath Yatra festival were allowed. Common people did not participate in the procession.
This year too like previous year Rath Yatra procession was not allowed in Kolkata. Kolkata Rath Yatra is organized by Iskcon and is famous in the city of joy. Thousands of people from Kolkata participate in it. Devotees from other parts of India and even from outside India come to participate in the Kolkata Rath Yatra festival.
Iskcon Kolkata too celebrated Rath Yatra during COVID but without procession
Although Rath Yatra procession was not there but still Iskcon Kolkata tried its best to celebrate the festival with whatever means available. All the rituals which are part of Rath Yatra was carried out by the resident devotees of the temple. At Iskcon House, Gurusaday Road a makeshift temple has been built which will be the Gundicha temple for the Lord.  Iskcon House is around 1.5 km from the main temple.
Lord Jagannath did not ride the chariots and was not pulled by thousands of enthusiastic devotees of Lord Jagannath. Instead the Lord directly went from Minto Park temple to Iskcon House on a vehicle.  There the Lord will reside till Ulta Rath Yatra. On the day of Ulta Rath Yatra, Lord Jagannath will come back to his Minto Park temple.
Before this Covid Pandemic struck the world, devotees would eagerly wait for Rath Yatra. In spite of busy schedule and other pressing commitments everyone would make sure that they participate in the festival.
Before marriage I always participated in Rath Yatra festival and procession. After marriage, me and my wife have been participating for last few years together. My parents would not be able to participate in the procession because of age but they always joined us when the chariots reached the Gundicha temple. For last few years, a beautiful Gundicha temple was mostly built at TAI Brigade Ground in Kolkata.  After Lord Jagannath would reach the Gundicha temple everyone would enjoy delicious khichadi prasadam. The taste would be out of this world.  Ask anyone in Kolkata who have tasted the khichdi prasadam at Rath Yatra and they will say you that it was the best khichadi they ever ate in their life.
Celebrating Rath Yatra at our home i.e. at Lord Jagannath's home
But this year as there was no Rath Yatra procession, so, we were thinking how to celebrate Rath Yatra. We wanted to celebrate it.  This material world is a place where one or the other problems will keep on coming. Now its Covid pandemic, next year there may be some other crisis. Nothing should stop our devotion to Lord. 
One way to participate in the festival was to watch Rath Yatra live on YouTube channel. But it does not give the same feeling which we experience when we physically participate and pull the chariot.
So, after contemplation, we thought let us celebrate it at our home. Although I am saying, 'our home' but 'our home' is not 'our home', but it is 'Lord Jagannath's home.' Lord Jagannath is Lord of the Universe, and he is kindly allowing me and my wife to stay in the house. Everything belongs to the Lord; nothing belongs to us.
So, we made plans to celebrate Jagannath Rath Yatra at Lord Jagannath's home.
Srila Prabhupada celebrated Rath Yatra when he was just a small child. Although we cannot imitate him but still we can try to follow his footsteps. We knew that we may not be able to do it in a grand way as it happens in the temple. But whatever best we could do, we decided to do it.
Making the deities of Lord Jagannath, Lord Baladeva and Subhdra Devi and the chariot at home
My wife is good in making crafts. She takes Krishna Conscious classes for children and teaches the kids to prepare beautiful crafts based on various pastimes of Krishna. This helps children to learn new things and use their talents in serving the Lord.
She took the responsibility of preparing small deity of Lord Jagannath, Lord Baladeva and Subhadra Devi at home. She also took the onus of making chariot for the Lord.
Since everything was closed and plans were made just few days before the festival, so she made the deities and the cart with whatever materials available at home. Cardboard, boxes, coloured paper, paints etc were used.  
Lord Jagannath in black, Lord Baladeva in white and Subhadra Devi in yellow looked colourful. Only one chariot for the three deities were made and that to not too big. But it looked elegant.
We celebrated Rath Yatra at home during COVID lockdown
On the day of Rath Yatra, we decided to prepare varieties of delicious food items for the Lord. Lord Jagannath loves to eat nice food when offered with love.
I took the responsibility of cleaning the hall, decorating the altar. We also planned for a small Gundicha temple where Lord will reside till Ulta Rath Yatra.
My wife began cooking different food items for the Lord since early morning.
I brought lots of flowers from the market and decorated the main altar, Gundicha temple altar and the Lord with colourful flowers.
We decided that we will start our Rath Yatra festival and procession after the festival starts at Puri.
Although I am calling it procession but only me and my wife was there. We did not invite others because of pandemic. My parents are also stuck at their native place because of Covid, so they were also not present.
Once Rath Yatra started in Puri. We performed an elaborate arati of Lord Jagannath, Lord Baladeva and Subhadra Devi. And then we began pulling the small cart of the Lord. A small blue colour ribbon was attached to the cart. It was the rope of the chariot. We pulled the Lord using that rope. 
With chanting of the mantras and singing of the Hare Krishna Mahamantra we began pulling the cart.  We also sang "jaya jaya jagannātha sacīra Nandan/ tribhūvana kore jār caraṇa vandan." This is a very nice devotional song in Bengali composed by Vasudeva Ghosa, a great devotee of Lord Chaitanya.
We were enjoying the journey of the Lord. By the time the cart travelled from the main altar to the makeshift altar we both were feeling so happy, so enthusiastic. Our Rath Yatra lasted for around 30 minutes.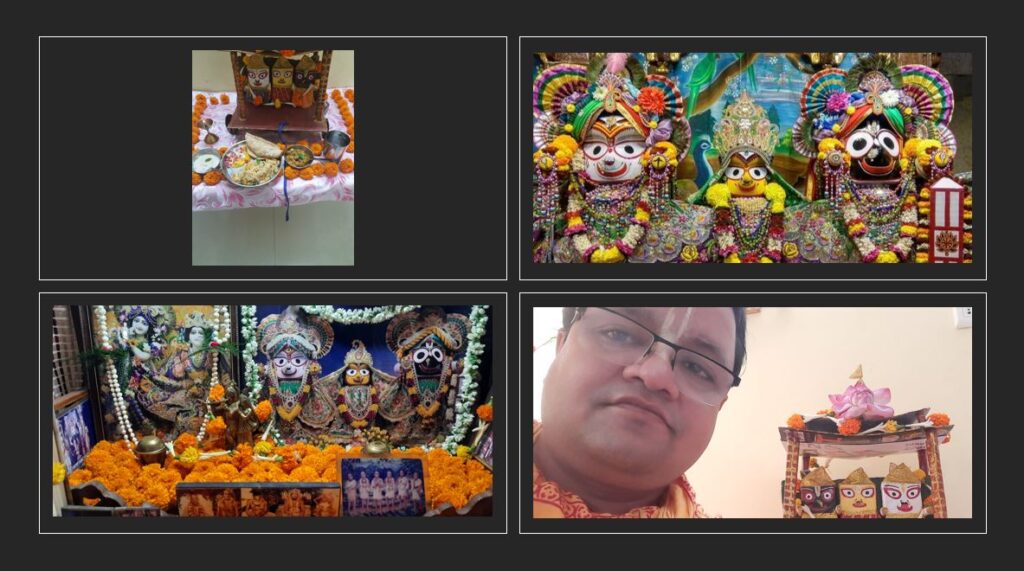 Offering arati and delicious food to Lord Jagananth, Lord Baladeva and Subhadra Devi
We placed the Lord on the Gundicha temple altar and did the arati. After the arati varieties of delicious food items were offered to the Lord.
We could have prepared more food and in large quantities and would have distributed it to our neighbours. But due to covid people avoid physical contact, so we did not prepare more. We did not invite our neighbours for the festival because of the same reason. Jagannath will stay at the makeshift Gundicha temple for nine days till the Ulta Rath Yatra.
Although we celebrated the Jagannath Rath Yatra festival in a small way but still we experienced lots of joy.
Rath Yatra gives us an experience of the joy of the spiritual world
One of the great things in Iskcon is that we are trained to practice and celebrate different festivals of the Lord at our home.  In fact, we are told that we should make our home like a temple of the Lord. Whatever we do, we should keep Lord in the centre.
The beauty of devotional life is that when we try to do something for the Lord then the Supreme Lord reciprocates, and we can experience the reciprocation in our hearts.  
We feel sad or frustrated or empty in our life because we try to seek happiness in the outside world. But if we absorb ourselves in the devotional service of the Lord, we will just experience bliss.
Rath Yatra is one such festival in which we can completely absorb ourselves and feel the presence of the Lord in our hearts.  Lord Jagannath has appeared for us – for you and for me.  
And when we whole heartedly participate in Rath Yatra festival, we experience joy of the spiritual world.