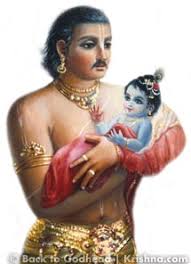 Hundreds of lovers of Krishna congregated at Biswa Bangla Convention Centre, New Town, Kolkata, to celebrate Janmashtami on 18th August. The program began in the evening at 4 pm and continued till around 7:30 pm. The auditorium reverberated with the chant of "Hare Krishna" and all the assembled guests thoroughly enjoyed the devotional fervour.
One of the most important highlights of the festival was the participation of kids in cultural programs in large numbers which made the event colourful and lively. The kids of New Town were practicing for several weeks and they performed perfectly on the stage and instantly won the applause and hearts of everyone.  Dance drama, Krishna Conch Dance, the three ladies drama, the sounds of divine where kids recited verses from Brahma Samhita were enjoyed by all.  The underlining message of the cultural programs was that we all can enrich and enjoy our life if we live as per the teaching of Krishna. 
A motivation talk was given by HG Sri Nitai Prabhu on the topic "What Google does not know?"  HG Sri Nitai Prabhu is an IIT graduate and currently serving as a monk at Iskcon Kolkata temple. In the talk he explained how Google can provide us tons of information, but it cannot tell us how to apply that information constructively in our life.  It also cannot teach us how to love and how to show compassion to others.
A beautiful abhishek, bathing ceremony, of Lord Krishna, Srimati Radharani and Laddu Gopal was performed. Different ingredients such as milk, curd, ghee, honey, misri (rock sugar) water, rose water, sarv aushadhi, 7 types of fruit juices, coconut water, Ganges water was used to bath the Lord.  Amidst the melodious chant of Hare Krishna Mahamantra, the sacred items were poured on the Lord using conch shells and earthen pots.  At the end of the abhishek hundreds of flower petals were showered on the Lord.
After the abhishek Lord Krishna, Srimati Radharani and Laddu gopal were decorated with colourful clothes and ornaments. 108 food items which were prepared by the devotees were offered to the deities in earthen plates.  Small kids colourfully dressed as gopis and gopas performed dandiya dance in front of the Lord on the song nand ghar anand bhayo jay kanaya lal ki.
Dinner Prasadam (sanctified vegetarian food) was there for all. Everyone enjoyed the festival. In the core of their hearts all felt deep joy, their love for Krishna had increased.