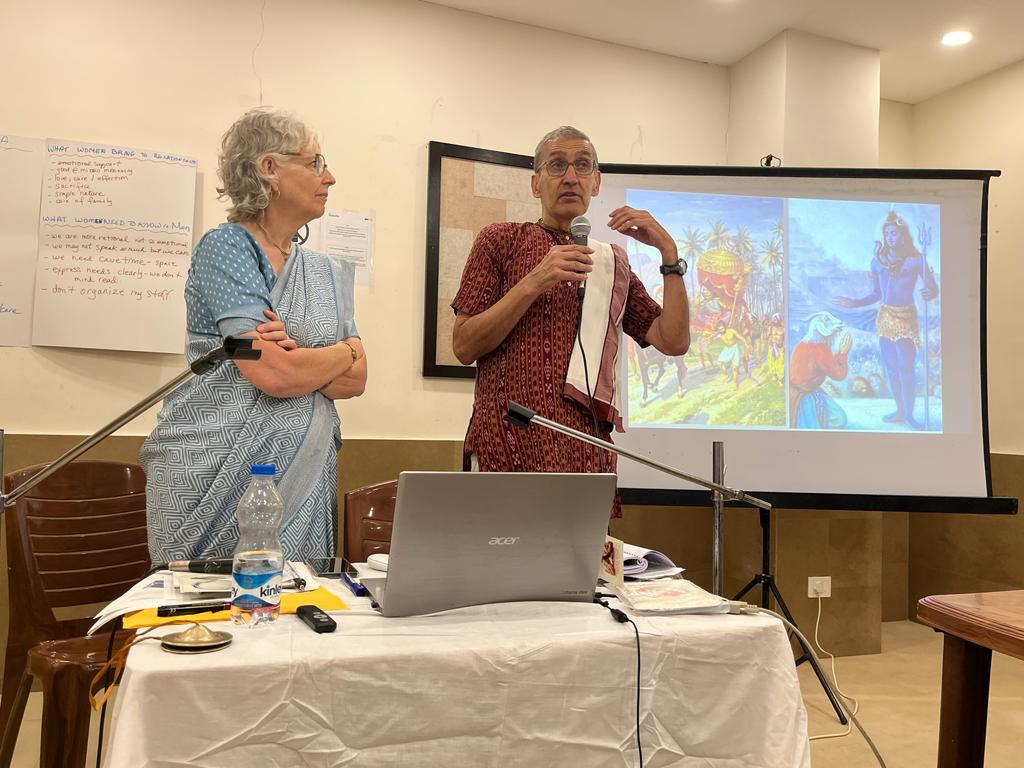 A two day grihastha training course on how to be successful and happy in Krishna Conscious marriage was organized at Iskcon Newtown, Kolkata on 11th & 12th March, 2023. The course was entitled – Strengthening the bonds that free us.
Married devotees and those devotees who are planning to enter into grihastha ashram attended the training to learn important tips to lead a happy Krishna Conscious married life.
Temple brahmacharis too attended the course to get a better understanding of grihastha ashram and its importance in Iskcon society.
Training was conducted by HG Parth Prabhu and HG Uttama Devi Mataji. Both are Srila Prabhupada's disciples and are happily married for more than 50 years. Their life is testimony to the fact that if a devotee couple comes together for a higher purpose without any ulterior motive then they not only live a successful married life but they can also guide hundreds of grihastha devotees to be happy in Krishna Conscious marriage.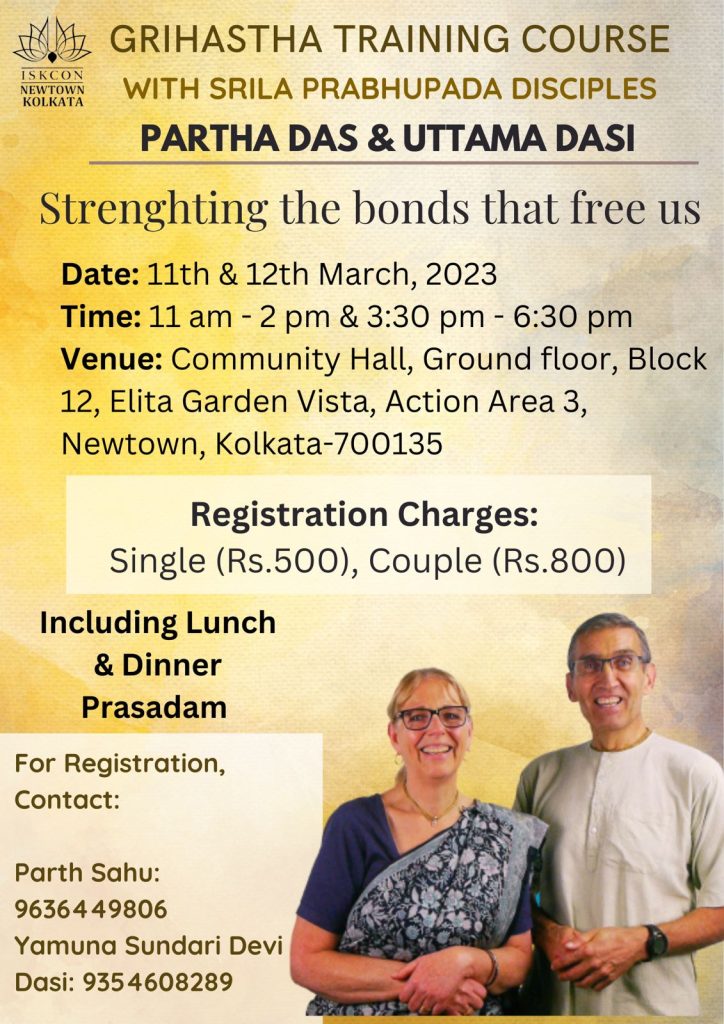 Devotee marriage is different
Devotee marriage is different from other marriages because devotees marry for higher purpose. Krishna is always the centre of their life and they both together try their best to serve Krishna. And the devotee couple also actively serve the mission of Srila Prabhupada.
The training was based on the teachings of scriptures and Srila Prabhupada's instruction to grihastha devotees. They discussed the challenges which a husband and wife faces in today's fast paced world and how a Krishna Conscious couple should navigate through those challenges and continue living together happily.
Marriage means responsibility
Tips were given as how in today's world devotee couple can sort out their differences amicably. Srila Prabhupada in many of his teachings emphasize that marriage means responsibility. Both the husband and wife should come together to serve each other with a goal to ultimately please Krishna and there is no question of separation.
Srila Prabhupada says, "But marriage means to take full responsibility of a woman. That is real marriage, Vedic marriage. We, when I get married our boys and girls, the boy takes this vow that "I take responsibility of your maintenance throughout your whole life," and the girl promises that "I desire to serve you throughout my whole life." So the woman, the female, is the energy. When a man comes at home, he sees that everything is nicely decorated, my wife is well-dressed and foodstuff is nicely prepared, he becomes encouraged. He can work more nicely. Therefore woman is the energy. The woman gives the energy and he can work." Room Conversation — October 20, 1968, Seattle
Various case studies and research materials published by professional marriage counsellors and psychologists were too part of the training. Even these professionals say that spouses should work hard to develop health bond with each other. And if the couple want happy and satisfying life then marriage should last life long and there should not be separation.
12 Principles and Values for a Successful Krishna Conscious Marriage
This was also the purpose of seminar – to help devotee couple develop strong bond with each other and never even think of divorce. It was a comprehensive marriage and family course for couples before and after marriage, leaders, and everyone concerned.
The training included in-depth exploration, interactive exercises, role plays, journaling and education in the following areas:
12 Principles and Values for a Successful Krishna Conscious Marriage in alignment with Srila Prabhupada and the sastras.
Male/Female Paradox- Gender roles and cultural Norms, Understanding Differences and Expectations.
Communications — Healthy Communication, Saboteurs of Healthy Communication, Empowering Communication Skills, Sustaining Family Relationships.
Affection and Intimacy-Krsna Conscious Perspectives on Sex Life, Connection and Loving Exchanges.
Managing Conflict-Danger Signs in Marriage, Signs of Abusive Relationships, Conflict Resolution Styles, Win-win decision making.
Children and Parenting —Patterns and Skills of a Healthy Family, Children's Needs, Parenting Styles and how we are influenced.
Balanced lifestyle – Personal development / Spirituality, Values.
Marriage is Krishna's gift
Marriage is sacred and it is for entire life. But unfortunately, in today's time it has lost its sacredness and couples decide to get separated even for trivial issues. In Krishna Conscious marriage both husband and wife understand that they have come together only by the blessing of Krishna.
Marriage is a gift which Krishna has given them and how happily they live together is a gift they can give to Krishna.
Yes, it's true when two different individuals come together there will be differences and disagreements but if there is mutual respect and love for each other then one can overcome any challenge.
But if there is selfishness and exploitative mentality then even a small issue can snowball into a big controversy. Both husband and wife have to equally take responsibility of making marriage successful.
If a husband tries and wife remains indifferent or vice – versa then there will be serious challenge in the marriage and can even lead to separation. This will displease Krishna, Srila Prabhupada and all the acharyas. It will also have negative impact on one's Krishna Conscious life.
There should be no divorce
Srila Prabhupada would very strongly say that there should be no divorce at any cost. In this age of Kali yuga, people do not hesitate to go for divorce. So, devotees in Iskcon should do their best to avoid divorce.
Devotees wear Vaisnava dress, put tilak, wear kanti mala, carry bead bag and have love for Srila Prabhupada, so we should not do anything which will displease Srila Prabhupada.
Sometimes some devotees justify divorce saying that since the couple was not happy with each other, so it was better they got separated. And they also give examples of devotees who are happy in their second marriage or third marriage and so on.
But Srila Prabhupada did not approve this. He says that it's a dog life. Just like dog changes partner again and again for sense gratification, similarly, so called devotees changes partner again and again.
Below are few of the statements of Srila Prabhupada on divorce.
"The divorce is also dog's business. Dog is having sex intercourse with this female dog and another, another, another, another. It is animalism, That's all."
Morning Walk — May 28, 1974, Rome
Yes, in case of abuse, physical or emotional, one does not have any option but to move out of the marriage. But unfortunately those who want to separate may start claiming that they are being abused. Anyway, how much sincere we want to be in our spiritual life is our decision.
We can cheat the world but not Krishna. He knows the truth and we will get the reaction as per our own karma. Also, if someone's husband or wife runs away from the marriage then it's a different situation.
Srila Prabhupada never thought about divorce
Srila Prabhupada gives his own personal example that although he had disagreement with his wife but neither he nor his wife ever thought about divorce.
"The modern, so-called advanced boys and girls, they are now after divorce. But before that, even there was misunderstanding between husband and wife, quarrel, there was no question of divorce. Take my life practical. I was a householder. Now I have given up. So practically I did not agree with my wife, but there was no dream of divorcing. You see? Neither she dreamt, neither I dreamt. This was unknown. Now they are being introduced."
Press Interview — December 30, 1968, Los Angeles
We don't allow divorce
"A man wants a woman, and a woman wants a man, so we say, "All right, take it. Live peacefully, but don't change partners." We don't allow divorce; once they're married there is no separation. Nor do we allow boys and girls to live together as friends. If a man wants a woman and a woman wants a man, they should become united by marriage, live peacefully and advance in Kṛṣṇa consciousness. That is our proposal." Interview with the New York Times — September 2, 1972, New Vrindaban
Dangerous to allow Divorce
"That is very dangerous law to allow divorce. Divorce should not be allowed. Even there is some disagreement between husband and wife, it should be neglected." Room Conversation with Director of Research of the Dept. of Social Welfare — May 21, 1975, Melbourne
Selfish motives leads to divorce
"As soon as there is discrepancy in my satisfaction I divorce my wife. Or the wife sees that "This husband is useless." She also divorces. So everywhere, the whole material world is going on on the basis of sense satisfaction." Room Conversation — September 24, 1969, London
Conclusion – Live together & love each other forever.
Hope the seminar will help the devotees to understand the true meaning of grihastha life and the importance of preserving the marriage lifelong. Just like a sannyasi takes a vow to serve Krishna with body, mind and words, similarly husband and wife take vow in front of Krishna and the fire to love and serve each other for entire life and never get separated.
This Grihastha Training will help devotees to lead a successful and blissful Krishna Conscious married life.  This will please Krishna, Srila Prabhupada and the entire devotee community.
At the end HG Acharya Ratan Prabhu honoured HG Parth Prabhu and HG Uttama Devi Mataji & thanked them for conducting the Grihashta Training course which will surely help the devotees to be successful in their Krishna Conscious marriage life