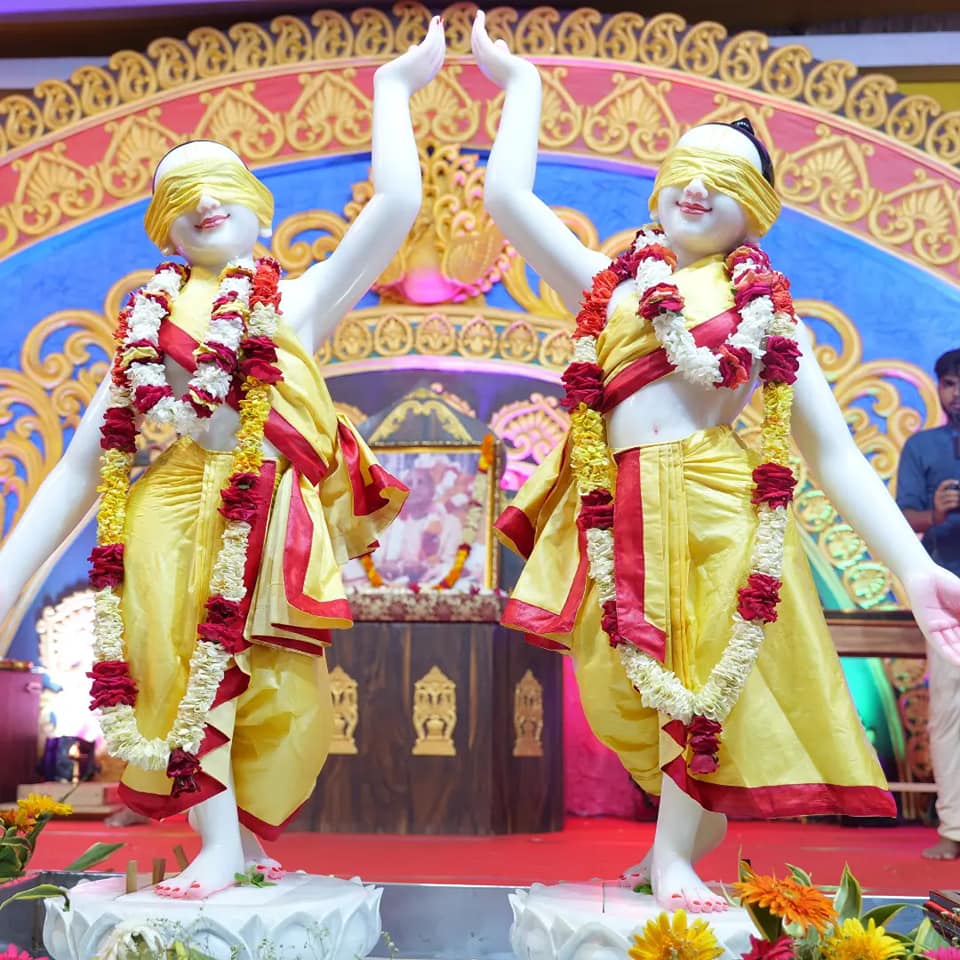 From 19th May – 22nd May 2022, a beautiful deity installation ceremony of Gaur Nitai was celebrated at Iskcon Newtown Kolkata. Gaur Nitai deity was installed on the altar on 20th May, Friday, 2002 in the noon.
Thousands of devotees from different parts of Bengal and India and from the world participated in the deity installation ceremony. On this auspicious occasion, HH Radhanath Swami Maharaj addressed the devotees and spoke on the importance of deity installation at Iskcon Newtown.
HH Radhanath Swami on Gaur Nitai deity installation at Iskcon Newtown Kolkata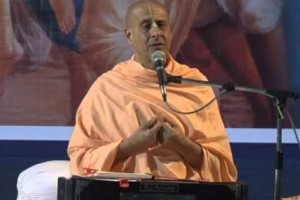 Today, on behalf of His Divine Grace AC Bhaktivedanta Swami Srila Prabhupada, founder acharya of Iskcon and on behalf of all the most exalted beloved acharyas of Brahma Madhava Gaudiya sampradaya the pran pratista of Nitai Gauranga is being celebrated. Kolkata is the main hub of activities for entire state of Bengal. Srila Prabhupada considered Kolkata to be the gateway to Navadvipa Mayapur Dham. It was in Mayapur Dham Lord Chaitanya appeared in this world.
Devotees from all over the world assembled there to assist him to inaugurate Harinam sankirtana movement. Lord Chaitanya is the Supreme Personality of Godhead, Lord Sri Krishna who for the purpose of experiencing and realizing the happiness of the love, the nature of the love of Srimati Radharani appears in this form of Lord Gauranga. Krishna wore the heart of mahabhava, ecstatic love of Radha, and along with his associates in Mayapur Dham broke open the storehouse of ecstatic love of God in the mood of Vrindavan. They tasted it and distributed it without considering who is fit and who is unfit.
Gaur Nitai Meets
In another area of Bengal, Sri Nityananda Prabhu appeared in this world – brajendra-nandana jei, śacī-suta hoilo sei, balarāma hoilo nitāi. Balaram appeared as Lord Nityananda in ekachara. He performed beautiful, munificent childhood pastimes. He travelled holy places of India for over 12 years. And then from Vrindavan when he learned that Lord Gauranga has begun his sankirtana movement Lord Nityananda came back to Navadvipa on the bank of Mother Ganges. And the two brothers were united. Krishna and Balarama as Gaur Nitai for the first time united in this particular incarnation.
parama karuṇa, pahū dui jana nitāi gauracandra – Lord Chaitanya and Lord Nityananda are supremely merciful, their compassion excelled all other incarnations of godhead. Sri Radha and Krishna revealed Vrindavan pastimes to very close, selected, sincere devotees. But Lord Chaitanya and Lord Nityananda brought Vrindavan pastimes and made it accessible to everyone.
We can get into that pastime by chanting the holy names, hearing Srimad Bhagavatam and by serving devotees. Our bellowed guru maharaj, Srila Prabhupada, fulfilled the prophesy of both Lord Chaitanya and Lord Nityananda that the sankirtana movement will reach every town and village throughout the world. A dream, a prophecy which remained enshrined in the heart of our beloved acharyas was fulfilled by Srila Prabhupada.
Kolkata's spiritual significance
AC Bhaktivedanta Swami Srila Prabhupada appeared in this world from the spiritual abode in the city of Kolkata. Srila Bhaktivinod Thakur's primary preaching activities and publication and distribution of his books took place in Kolkata. Srila Bhaktisiddhanta Sarasvati Thakura was born in Jagannath Puri but all of his education was in Kolkata. And from Sri Navadvipa Dham Srila Bhaktisiddhanta Sarasvati Thakura returned to Kolkata to establish his preaching mission.
It was at Ultadanga Road that Srila Bhaktisiddhanta Sarasvati Thakura established first Gaudiya Math. It was in 1922 i.e. 100 years back our Srila Prabhupada met his guru, Srila Bhaktisiddhanta Sarasvati Thakura, at the rooftop. It was in Kolkata he received the order which became his life and soul. And later became our life and soul. The message was to take the teachings of Lord Chaitanya all over the world in English language.
From Vrindavan, Srila Prabhupada returned to Kolkata. And from Kolkata he departed in cargo ship to travel to west to do something which no one did successfully in history. It was to spread sankirtana movement throughout the world. Srila Prabhupada went to America.
HH Jayapataka Swami Maharaj's great contribution
I am feeling great happiness in my heart today that along with HH Jayapataka Swami we are participating in this festival. HH Jayapataka Swami was born and raised in mid-west America. When he was a teenager in loving surrender to Srila Prabhupada, he left America for India and came to Bengal. When there was no means, no facilities, he was preaching in Bengal. He learnt to preach in Bengali language. In 1970s he was giving satsang in local language in which thousands of people of Bengal were participating.
Srila Prabhupada at one time made HH Jayapataka Swami president of Kolkata temple. Radha Govinda temple at Albert Road in Kolkata is the first temple Srila Prabhupada established in India. Also, HH Jayapataka Swami is one of the earliest senior most sannyasi of our movement who has been developing Mayapur dham since decades and preaching message of Lord Chaitanya all over the world. We are truly honoured that HH Jayapataka Swami is here for this auspicious occasion.
Kolkata gateway to places associated with Mahaprabhu's lila
Albert road temple of Radha Govinda is the first temple of Iskcon in India. It was a rented flat. For many decades that is all we have been having. In recent times building has been expanded and renovated. But Srila Prabhupada wanted a glorious temple in Kolkata as a gateway to Mayapur Navadvipa dham. He wanted a glorious temple in the city of his birth in this world. A glorious temple in the city where he first met his guru maharaj.
Srila Bhakti Charu Swami Maharaj also grew up in Kolkata. It is such a special city. Kolkata is the capital of Bengal, the most important city of Bengal.
In many ways Kolkata is not just gateway to Mayapur dham but gateway to Ekachakra, Sri Rama Keli, Katwa, Ambika Kalna and all the holy places associated with Chaitanya Mahāprabhu's lila.
A glorious temple at Iskcon Newtown Kolkata
It is the wish and the prayer of all of us that a glorious temple and educational centre opens in Kolkata for all of Bengal and for all of India and for all of the world.
And by Srila Prabhupada's mercy, the area of Newtown where Sri Nitai Gauranga is being installed today will be the site where this new temple will manifest. To glorify Srila Prabhupada's birthplace, we have land where Srila Prabhupada took birth under jackfruit tree. We are trying to model it and develop it into a beautiful memorial where people can come and meditate and offer gratitude to Srila Prabhupada.
We are developing Ultadanga junction road where devotees can come and take dust of the lotus feet of Srila Bhaktisiddhanta Saraswati Thakura and of all the devotees and serve the instruction which Srila Prabhupada received.
And next stage is to have at the capital city of West Bengal, Kolkata, a wonderful and beautiful temple of Nitai Gauranga and Sri Sri Radha and Krishna. A place where we can offer our gratitude and assist Srila Prabhupada in attracting the whole world to Lord Chaitanya and Lord Nityananda's mercy.
I thank all the devotees of Kolkata for your incredible devotional service, sincerity, overcoming unimaginable obstacles and following Srila Prabhupada's footsteps. Our prayers, our love, our gratitude is with you. Thank you very much.