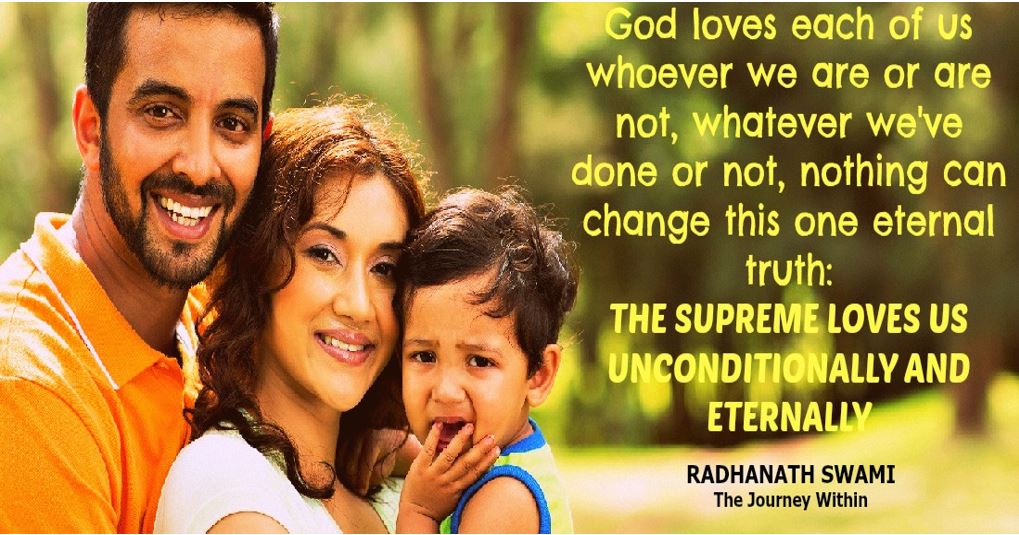 You and I have committed so many sins in this life and in many previous lives. Because of those sins we suffer in this world. We may blame other people or situations or circumstances for our sufferings, but the Vedic scriptures tell that we suffer because of our own karma. What we did in the past is haunting us today.
When an executioner executes a prisoner then he is not committing the crime of killing. As a representative of the government, he is just following the order of the State. He is doing his duty. If he will refuse to do then someone else will do it.
We suffer for our own sins
Similarly, if some people are giving us pain today then that person is not the cause of our suffering. We were to be punished for the wrongs we did in the past. And today someone has been arranged to give us pain. If we try to run away from the person who is giving us sorrow, then somewhere else someone will be arranged to give us sorrow.
We would have hurt someone's feelings before so today someone is hurting our feelings.
We would have cheated someone before, so we are getting cheated today.
We would have been harsh or arrogant or insensitive with someone so the same we are experiencing today.
We would have given pain to someone before, so others are giving pain to us today.
We would have taken others for granted so others are taking us for granted today.
We would have misused wealth before so today we are in poverty.
Unless and until our quota of suffering is exhausted, we will be subjected to miseries. So, let us stop blaming others for our misfortune. Let us also stop complaining God for our miseries. Instead, we should think how to free ourselves from past sins which is causing us so much trouble.
On our own we cannot free ourselves from the sins. A person convicted of death simply cannot run away from the prison. His only hope is to get mercy from the Supreme Court or from the Government. After being convicted of the crime by the highest court, the convict does not argue that he is innocent. He accepts his mistake and seeks mercy on humanitarian ground. His mercy plea may be accepted or rejected. But this is his only hope.
Seeking forgiveness from God
Similarly, we should write a mercy petition to the Supreme Lord. We should seek forgiveness from him for all the sins we have committed in all the lives. The President, the Prime Minister or the Judge of the highest court may accept or reject a plea. But the Lord of the Universe who is our Supreme Father will never reject us. If our prayers are sincere and we genuinely feel sorry for whatever mistakes we have done, then he forgives us. In fact, he forgets all our blunders and is ready to welcome us with open arms.
We should pray to the Lord, "O my Lord, as powerful as fire, O omnipotent one, now I offer You all obeisances, falling on the ground at Your feet. O my Lord, please lead me on the right path to reach You, and since You know all that I have done in the past, please free me from the reactions to my past sins so that there will be no hindrance to my progress." Sri Isopanisad Mantra 18
So, when suffering comes to us then instead of blaming others, we should blame ourselves. We should humbly accept that we did something terrible and so we are in difficult situation now.
Many times, we commit sins because of ignorance. But that is not an excuse. The laws of nature are very cruel. Whether we do things knowingly or unknowingly we have to face the consequences. If a child puts his finger in the fire, then his finger will burn. The fire will not think that since he is a child let me not burn his finger.
Chanting the names of Krishna burns all sins
So, it is important that we should live as per the laws given to us by God. We should learn what is righteous behaviour and what is unrighteous behaviour. What is sin and what is not sin. All this information we can get from Vedic literatures. Srila Vyas Deva has written volumes of Vedic literatures to tell us how to lead a God centred happy life which will save us from so many sufferings. Bhagavad Gita and Srimad Bhagavatam are most important Vedic books which helps us to lead a sin free happy life.   
Srila Prabhupada has made things much easy for us. He says that we should just follow 4 regulative principles of no meat eating, no gambling, no intoxication and no illicit sex. And we should also chant the Hare Krishna Mahamantra. If we do this then sins will not touch us. And what about the previous sins. Chanting the holy names of Krishna is so powerful that it burns all the past sins.
"As a fire burns dry grass to ashes, so the holy name of the Lord, whether chanted knowingly or unknowingly, unfailingly burns to ashes all the reactions of one's sinful activities. Awakening Love of God
Sri Chaitanya Mahaprabhu also says in his Sri Siksastakamprayers that chanting frees us from all the sins and extinguishes the fire of conditional life of repeated birth and death.
God protects surrendered souls from all the sins
So, the best way to live an auspicious life which is free from all sufferings is to take shelter of the Lord. We should again and again beg Lord to forgive us for all the sins which we have committed knowingly or unknowingly. And we should take a vow not to commit any more mistakes. Along with that we should pray to Lord sincerely to guide us on the righteous path so that we do not commit any sins in our life.  
Once we take shelter of the Lord he protects us from all the sufferings by freeing us from past sins and giving us intelligence and determination to not commit any more sins.
Srila Prabhupada explains, "To err is human. A conditioned soul is very often apt to commit mistakes, and the only remedial measure to take against such unintentional sins is to give oneself up to the lotus feet of the Lord so that He may guide one to avoid such pitfalls. The Lord takes charge of fully surrendered souls; thus all problems are solved simply by surrendering oneself unto the Lord and acting in terms of His directions," Sri Isopanisad Mantra 18 purport