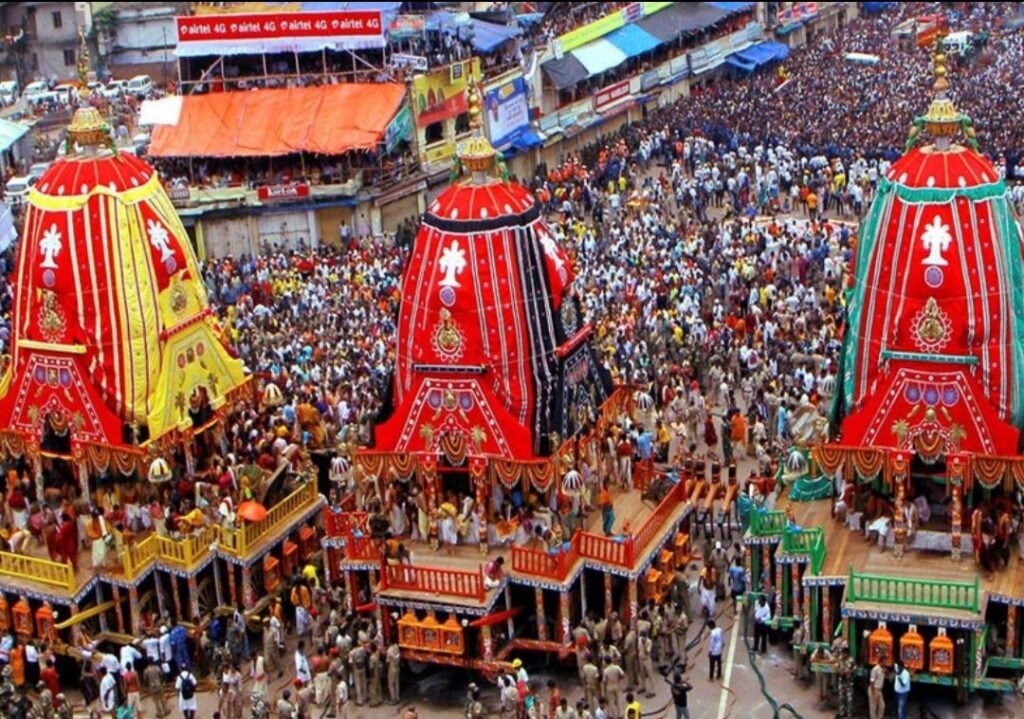 Rath Yatra is one of the most important festivals of India. It is being celebrated since hundreds of years. But when was the first Rath Yatra festival celebrated?Where was it first celebrated? Who all participated in the first Rath Yatra festival?
We all have experienced that when Lord Jagannath with his elder brother Balarama and little sister Subhadra enthrone the beautifully decorated majestic chariots on the Rath Yatra day then the hearts of lakhs of people dance in joy.
Lord Jagannath takes Lakshmi Devi's permission to ride the chariot
After snana yatra, Lord Jagannath remains confined in a secluded place for 15 days. During this period, he performs his pastimes with Lakshmi Devi, the goddess of fortune. He then takes permission from her and come to ride on the chariot to give pleasure to the devotees. And the devotees without any delay enthusiastically start pulling the ropes of the mammoth chariots to invite the Lord to reside in their hearts.
The chariots sometimes move very fast, sometimes very slow and sometimes just stand still even though it is pulled vigorously. It is said that the chariots move by the desire of the Lord and not by the efforts of an ordinary person.
The forms of the three deities are quite unique. They have big round eyes, have a huge smile on their faces but have no hands and feet.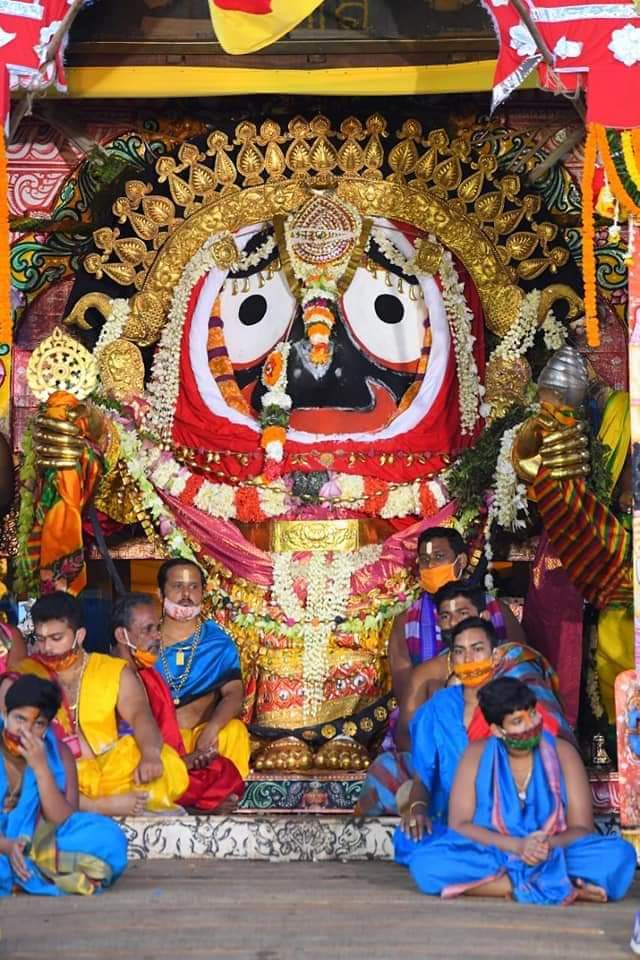 What happened when Lord Krishna left Vrindavan?
Krishna was the darling of braja but when he left them then all the brajvasis were devastated. Every moment they would remember Krishna, would always talk about Krishna and would hope that one day their Krishna will return back to Vrindavan.
Krishna although had left Vrindavan but he too always remembered his cowherd friends, his mother, Yashoda, his father, Nanada Maharaja, and of course the love of his life, Srimati Radharani.
Brajvasis come to Kurushetra during solar eclipse
Once there was a solar eclipse and Krishna along with his brother Balarama and sister Subhdra travelled on a chariot to Kurushetra to observe the Vedic custom of taking bath in a sacred place during solar eclipse. The residents of Vrindavan too had come to the holy city.
Brajvasis meet Krishna after several years of separation
And here after several years Krishna and brajvasis saw each other. Their hearts danced in joy; eyes were filled with tears.
Overwhelmed with love and with broken words they complained as why did he betray them?
Why he did not keep his promise of returning to Vrindavan? Krishna was speechless, how could he make them understand that although physically he may not be with them, but his heart was always in Vrindavan.
Brajvasis pull the chariot of Krishna to Vrindavan
Krishna was now the king of Dwarka, he was dressed gorgeously and was on a beautiful chariot. He was accompanied by beautiful queens and hundreds of soldiers.
The residents of Vrindavan did not like the opulence of Krishna. For the gopis Krishna was their paramour, for gopas he was their friend with whom they joked and played and for Nanda and Yasoda he was their naughty little child. Such simple, selfless and pure love can be experienced only in Vrindavan.
They wanted him to come to Vrindavan and so all the brajvasis started pulling Krishna's chariot to Vrindavan.
To commemorate this beautiful pastime Rath Yatra is celebrated.
So, the chariot festival began around 5000 years ago when Lord Krishna met brajvasis in Kurushetra after several decades of separation.
Lord Krishna as Lord Jagannath along with his brother Baladeva and sister Subhadra Devi rides on the chariot during the Rath Yatra festival. Jagannath Puri is the abode of Lord Jagannath. The Lord permanently resides in Puri along with his brother and sister. In Puri, this pastime of the Lord is celebrated every year.
The Rath Yatra festival of Puri is immensely popular and draws millions of people every year from all over the world. On the day of Rath Yatra millions of people come together to pull the chariot of Lord Jagannath.
Lord Jagannath, Lord Baladeva and Subhadra Devi's deities are taken out from the temple and put on three different chariots.
The devotees enthusiastically chant the names of Lord Jagannath and pull towards the Gundicha temple.
Lord Jagannath's temple is said to be Dwarka and Gundicha temple is said to be Vrindavan.
So, the devotees like the brajvasis pull the chariot of Lord Krishna or Lord Jagannath from Dwarka and plead him to come and reside in Vrindavan.
The glorious Ratha Yatra festival spreads all over the world
Several hundred years have passed but this tradition is continuing in Jagannath Puri. Hundreds of devotees daily come to the temple and thousands of devotees throng the temple city on the occasion of Rath Yatra.
Today Rath Yatra is not just confined to Puri but have spread all over the world.
In fact, it is now common to see Lord Jagannath's chariots rolling through the streets of London, New York, Los Angeles, Moscow, Paris and other cities of the world.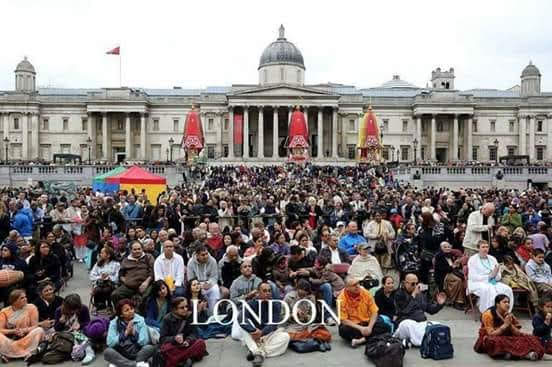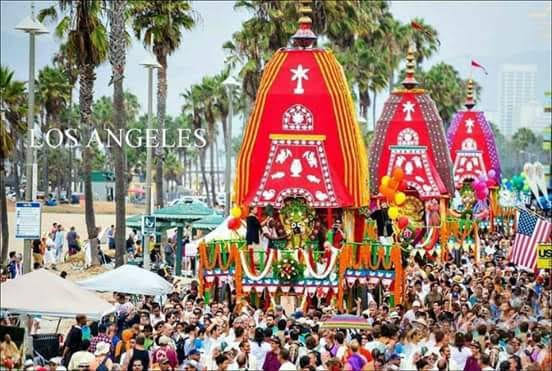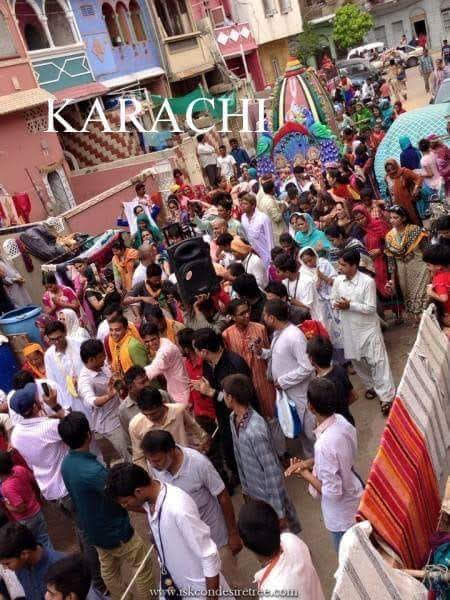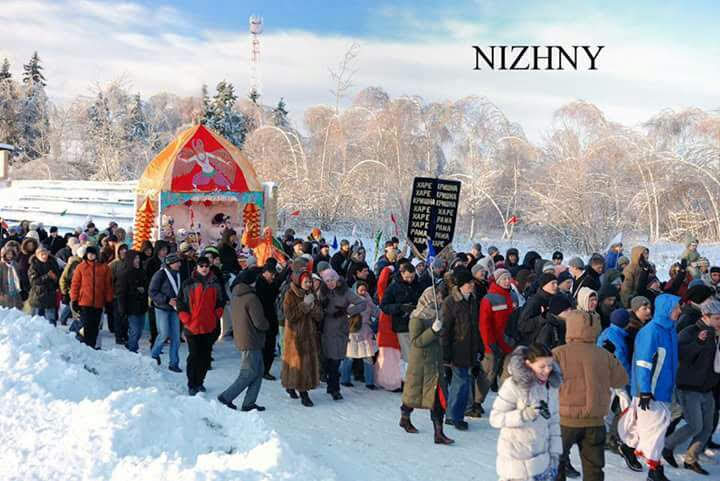 It is because of Srila Prabhupada, the founder acharya of Iskcon, that the chariot festival is being celebrated in almost all the parts of the world.
Conclusion
When was the first Rath Yatra festival celebrated?
Around 5000 years ago
Where was it first celebrated?
In Kurushetra
Who all participated in the first Rath Yatra festival?
Brajvasis, the residents of Vrindavan participated