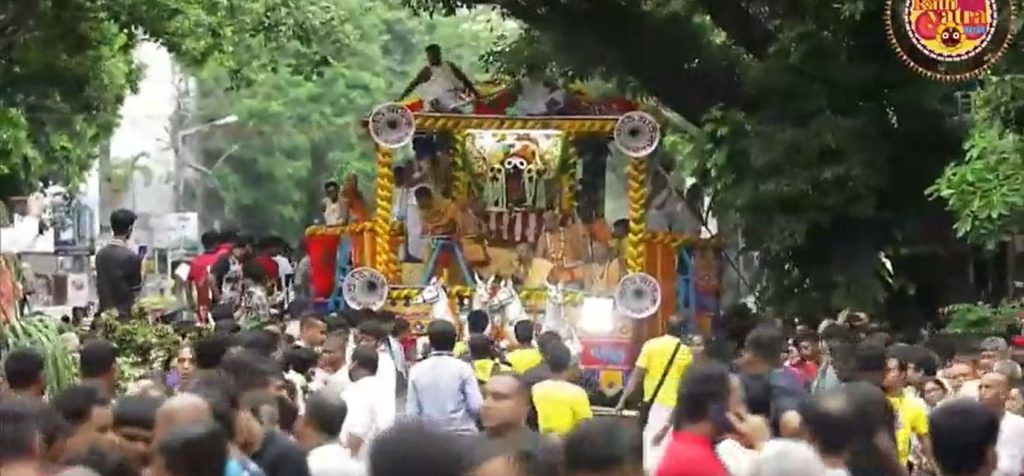 Iskcon celebrated 51st Kolkata Rath Yatra on 1st July 2022. For last two years because of Covid, Rath Yatra was not celebrated in such a grand scale. So, this time devotees of Jagannath, were eager to participate in the Kolkata Rath Yatra festival which was started by Srila Prabhupada in 1972. Thousands of devotees accompanied the Rath Yatra procession.
On the streets thousands of people stood to pull the chariots of the Lords. Some people especially elderly who could not come on the street watched the massive Rath Yatra procession from their house's balconies and window.
Seeing the three massive chariots rolling through the streets of Kolkata amidst the loud chanting of Jay Jagannath and Hare Krishna Mahamantra gave great joy to everyone.
Inauguration of 51st Kolkata Rath Yatra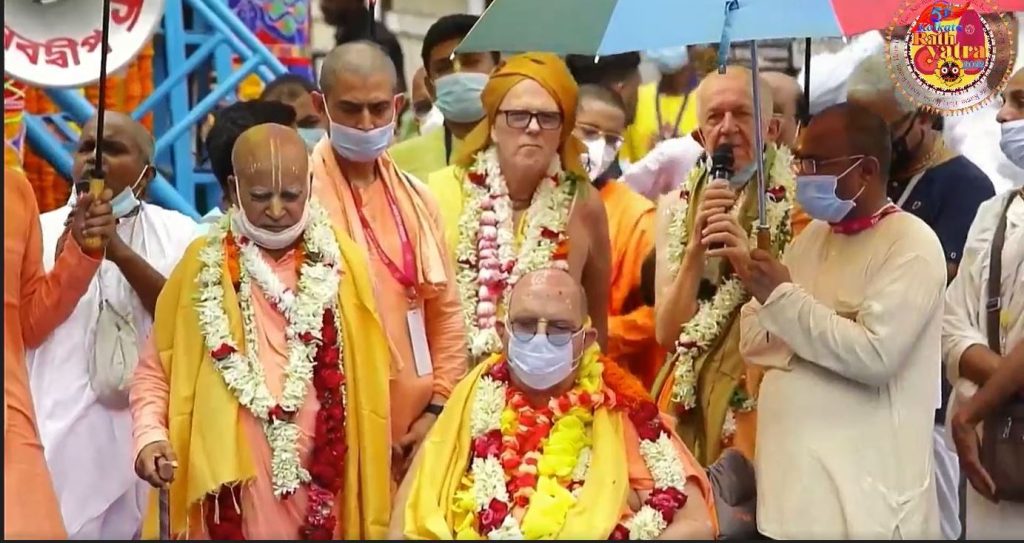 Rath Yatra started from Iskcon's Sri Sri Radha Govinda temple at 3C Albert Road, Minto Park and culminated at TAI Brigade Ground where a beautiful Gundicha temple has been built.
51st Kolkata Rath Yatra was inaugurated by HH Jayapataka Swami Maharaj, His Holiness Subhag Swami Maharaj and HH Bhakti Vighna Vinasa Narasimha Swami Maharaja.
Chief Minister of West Bengal participates in Rath Yatra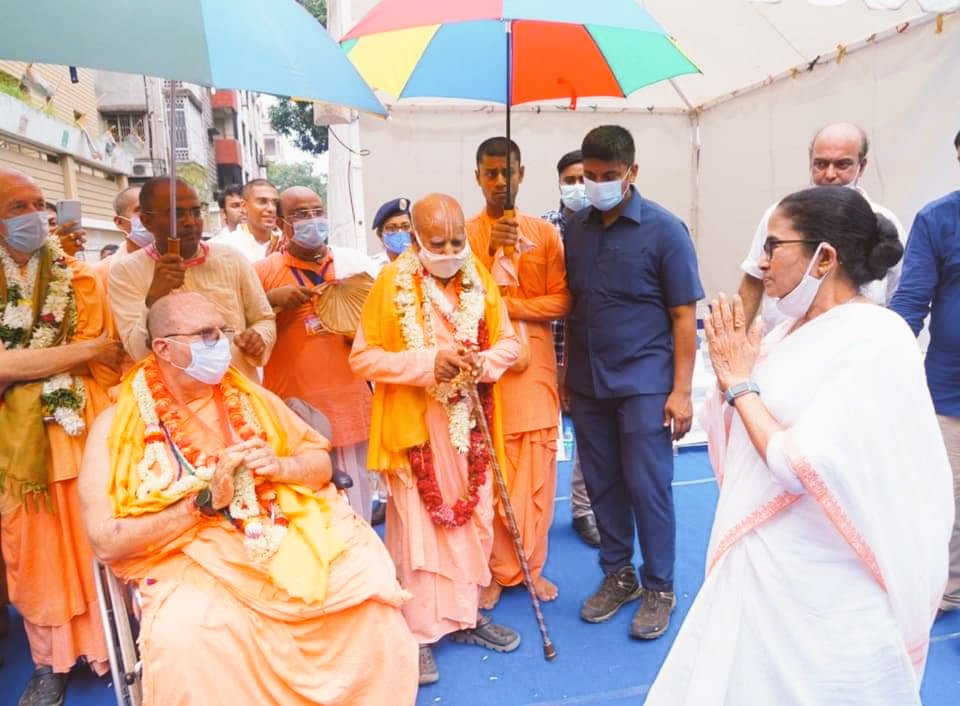 Chief Minister of West Bengal Mamata Banerjee also participated in the 51st Kolkata Rath Yatra. CM Mamata Banerjee along with TMC MP, Nusrat Jahan, first visited Sri Sri Radha Govinda temple and did arati of Radha Govinda. Then she also did arati of Lord Jagannath who was seated on the chariot. She also participated in pulling the Rath of Lord Jagannath.
Rath Yatra was to start at around 1 pm IST but was little delayed. Devotees were eager to pull the chariot. They were desperately waiting for the Rath Yatra to start. Many devotees were holding the ropes of the chariot and sitting on the street. Just like a mother holds her baby on her lap or close to her chest, devotees had put the rope on their laps, some close to their chest.
Rath Yatra management team had announced that when they will show green flag then devotees can pull the chariot and when they will show red flag then devotees should stop and not pull the chariot.
Eagerness of the devotees to pull the chariot
On few occasions, it happened that the devotees thought that the procession is about to start, so they got up holding the ropes with great enthusiasm hoping to pull the chariot of the Lord. But the rath yatra management would politely ask them to wait for some more time.
The wait was little longer. I was also desperately waiting for the Rath Yatra to begin. One elderly devotee was sitting beside me. He spoke pure Bengali language. I am not able to understand Bengali completely, I can understand it in bits and pieces. And am not able to speak. The elderly devotee also did not speak Hindi/English. But still we conversed and tried to understand each other.
The elderly devotee was saying that he has been practicing Bhakti since last 36 years. He was around 70 years old. He said that he is a disciple of HH Jayapataka Swami Maharaj. From the conversation, I could sense that he had great respect for Maharaj.
For him the wait was little more difficult, especially because of his age. So, he was little upset. We had been waiting for hours. I was also losing patience thinking that why it is not starting. Some said that because the CM has not arrived, so Rath Yatra has not started. Some gave other reasons.
Lord Jagannath moves as per his own will.
All the material reasons for the delay could be true, it could be justified too. But one thought came to my mind.
In Chaitanya-Charitamrita Madhya 13.28, describing the Rath Yatra procession of Jagannath Puri, Kṛṣṇadāsa Kavirāja Gosvāmī writes, "Sometimes the car would stand still and not move, even though it was pulled very vigorously. The chariot therefore moved by the will of the Lord, not by the strength of any ordinary person."
Lord Jagannath moves as per his own supreme will. He is independent Lord, whenever he decides, he moves.
So, putting aside all my logic, arguments, analysis, frustration, impatience, I prayed to Lord Jagannath to give us an opportunity to participate in the festival of pulling his chariot.
While all of us were wating for the procession to start, devotees were doing kirtan, doing arati and were offering bhoga to the Lord.
Rath Yatra procession finally begins
Finally, Lord Jagannath decided to move. Rath Yatra management devotees announced that we are now going to pull the chariot of the Lord. They showed the green flag. It was celebration time. Devotees who were holding the ropes of the chariot for hours and siting on the road, immediately got up and with the loud chant of Jay Jagannath, they pulled the ropes. Hundreds of devotees who were standing on the sides of the road joined them to pull the chariot.
Rath Yatra procession started at around 3:30 pm IST. Lord Jagannath Rath started at 3:51 pm IST.
Once the Rath Yatra started, there was no delay. The three massive chariots of Lord Jagannath, Lord Baladeva and Subhadra Devi rolled through the streets of Kolkata. In front of each chariot devotees were doing kirtan.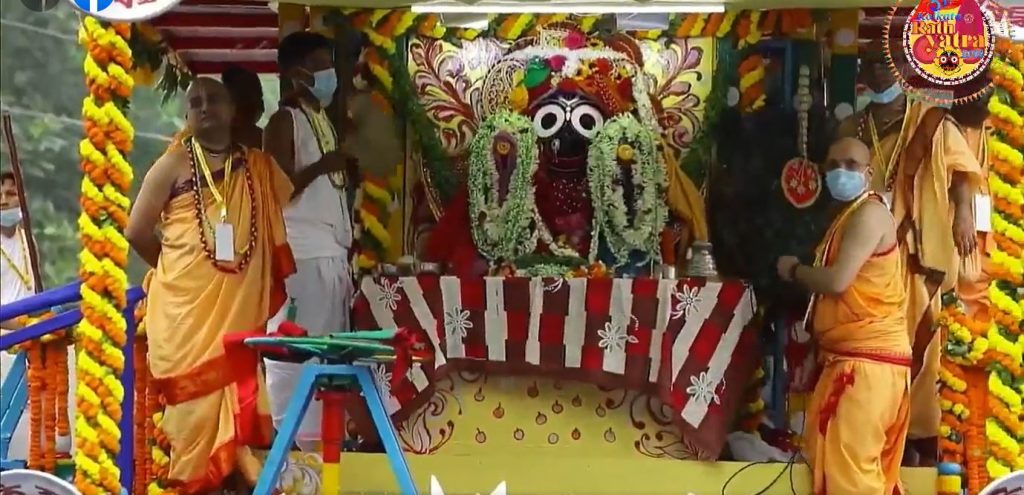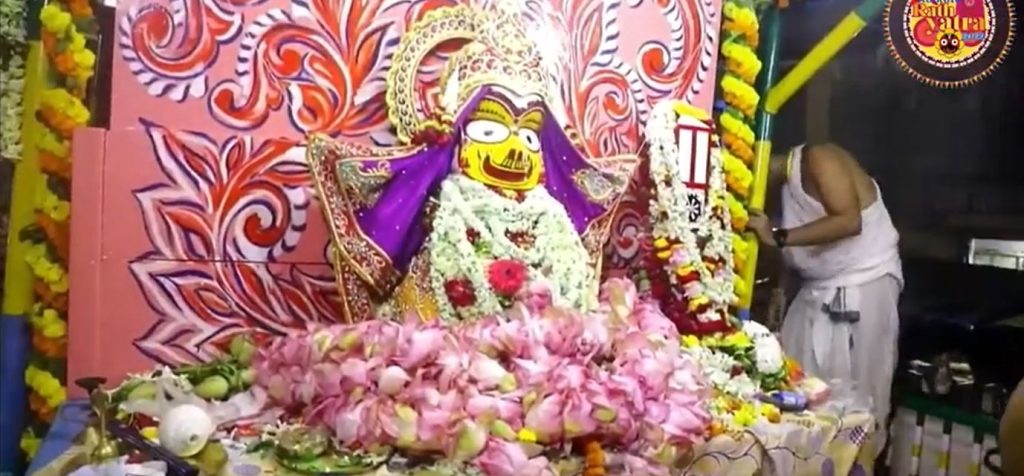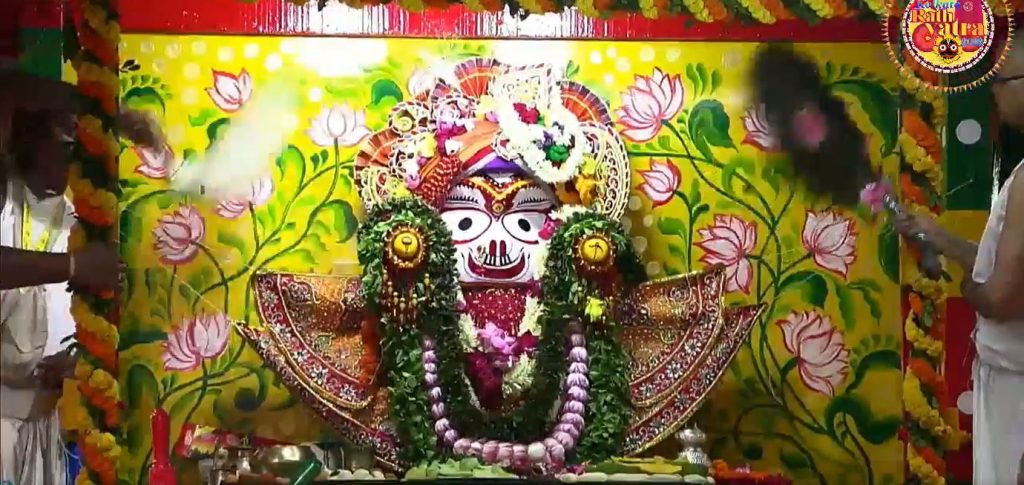 The three chariots
Lord Jagannath chariot is called Nandighosa. This chariot has 16 wheels. It's charioteer is Daruka.
Lord Baladeva's chariot is called Taladhwaja. It has 14 wheels and Matali is the charioteer.
Subhadra's chariot is known as Devadalana/Darpadalana/Padmadhwaja. This chariot has 12 wheels and Arjuna is the Charioteer.
People's eagerness to pull the chariot
At different places bhoga was offered to the Lord. At some places 108 food items were offered to the Lord, at some places 51 items. Lord Jagannath prasadam were distributed along the way. Many people were eager to serve the devotees participating in the Rath Yatra procession, So, at many places they were serving water, juices and refreshment to the devotees.
I saw few devotees carrying broom with them to sweep the street from where the Lord will pass. People were falling flat on the street to pay obeisances to the Lord.
Because of Rath Yatra procession, commuters had to wait for long time at traffic signals. But no one looked upset. They too were enjoying Rath Yatra procession. Many people got down from buses and their vehicles to pull the chariot.
Many were peeping from inside the buses and vehicles to see the Lord. They were also raising their hands to welcome the Lord and offer their respects to the Lord.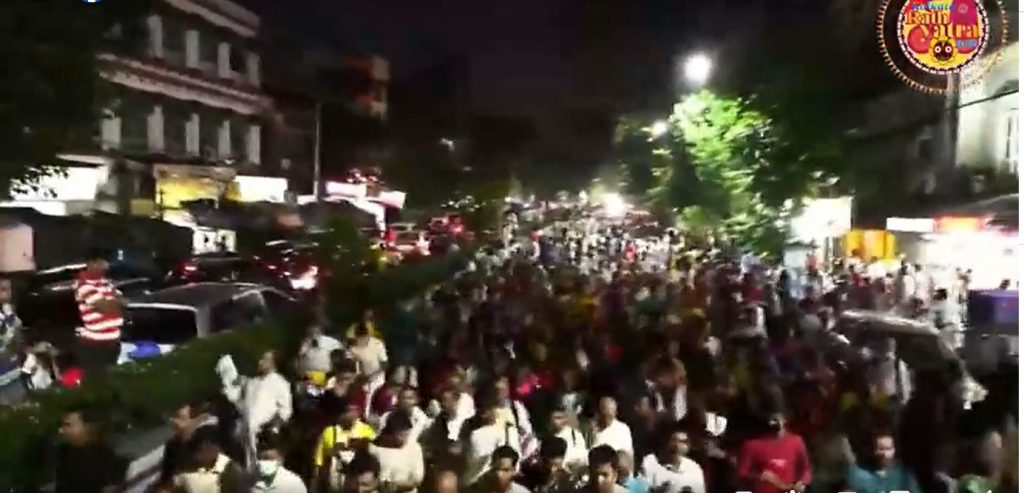 Although we say that because of Kaliyuga people are not showing much interest bhakti but still I saw that there were thousands of people at different spots eagerly waiting to pull the chariot of the Lord. Young and old, men and women, rich and poor everyone came to pull the rath. And while pulling they all were chanting Jay Jagannath or were singing Hare Krishna Mahamantra.
It is because of Srila Prabhupada's mercy that so many people in Kolkata are getting mercy of Lord Jagannath. If you would have looked at the face of Lord Jagannath, he looked happy.
Wonderful Rath Yatra experience
A day before Rath Yatra I was not feeling enthusiastic to participate in Rath yatra. On the Rath Yatra day too in the morning, the feeling remained the same. But I did not want to miss Rath Yatra. I thought that I will be there for couple of hours and then return back. But after being there with the Lord and his sincere devotees, I could not think of coming after attending only for couple of hours.
I had wonderful experience. I pulled all the three chariots – of Lord Jagannath, of Lord Baladeva and Subhadra Devi. After pulling the three chariots, I came in front of Lord Jagannath's chariot. I saw their one of my friends HG Anant Bhagavan Prabhu who is a celibate monk in Iskcon temple and other devotees. I decided to be with them.
Devotees in front of Lord Jagannath chariot were doing kirtan and were dancing for the pleasure of the Lord. Because of their inspiration I too participated in the kirtan. It was a great experience.
Poison in beginning, nectar at end
In Bhagavad Gita 18.37, Lord Krishna says, "That which in the beginning may be just like poison but at the end is just like nectar and which awakens one to self-realization is said to be happiness in the mode of goodness."
I realized that because of my laziness and impurities I was not feeling motivated to participate in Rath Yatra but once I participated and took the association of the devotees, I felt really nice. One lesson I learnt is that I should not listen to my mind but should follow the guidelines of the scriptures and footsteps of sincere vaisnavas.
As many devotees were there trying to pull the chariot, it was naturally that they will step over each other. So, while pulling the chariots many devotees stamped over my feet. I have blisters on my feet. But it is ok. Its sweet pain.
Rath finally reached Gundicha temple
Rath Yatra finally reached Gundicha temple at TAI Brigade ground, at around 9 pm i.e. almost after five and half hours. Here Lord Jagannath, Lord Baladeva and Subhadra Devi will stay in Gundicha temple for 9 days i.e. till the day of Ulta Rath Yatra which is on 9th July.
At Gundicha temple venue, various attractive stalls have been put for people to visit and get inspired to practice Krishna Consciousness. For kids there is special kids corner where they can come, have fun and see a glimpse of Krishna Conscious life. For nine days, various programs will be there at Gundicha temple throughout the day.
After we reached Gundicha temple we had delicious khichdi and halwa prasadam. It was a wonderful and memorable Rath Yatra experience.
The happiness which Lord Jagannath bestows upon all who participate in his Rath Yatra celebration cannot be described in words.