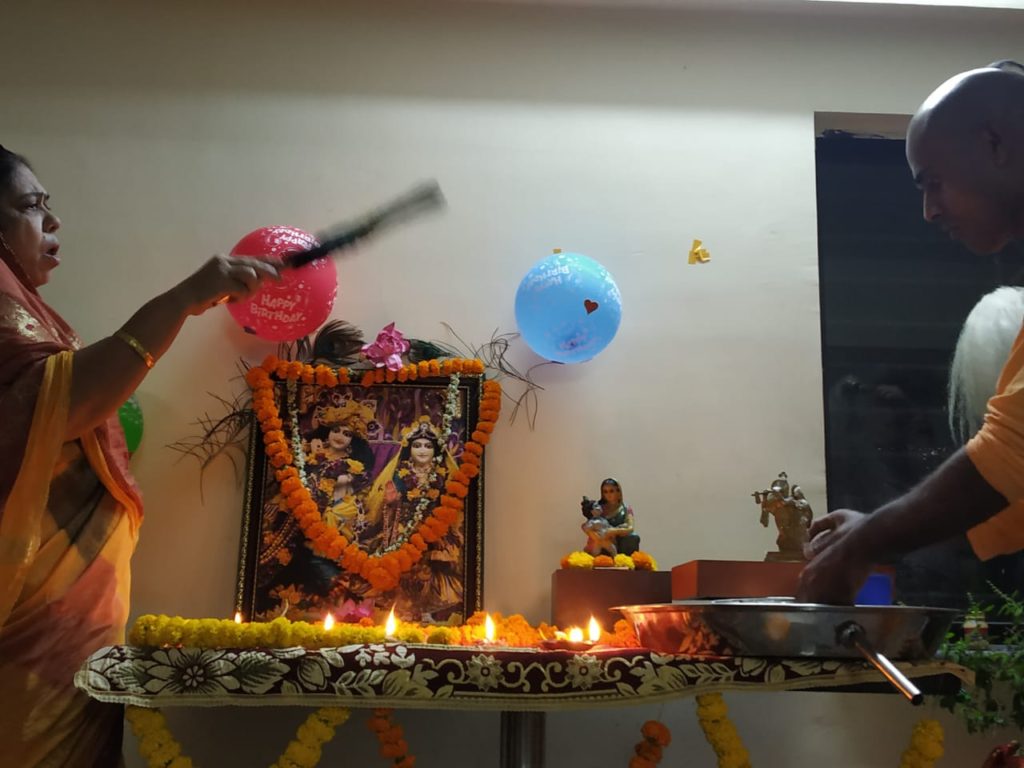 We had a special celebration of Janmashtami along with wonderful residents of our Omni Tulsi society on 23rd August.
As almost everyone is busy these days, so we hardly get time to interact and know each other. But festivals like these provide an opportunity for all the residents to come together, work together and know each other in a better way.
We are fortunate that here all are extremely friendly and cooperative and are always ready to help others. In many societies we hear that people hardly know even their next-door neighbour and have difficulty in getting along with other members of the society.
In fact, to organize the festival successfully each and everyone contributed to the best of their capacity. Scriptures tell us that Lord Krishna does not see what we offer him or how much we offer him, but he sees with what intention we worship him. In Bhagavad Gita 9.26 Lord Krishna says, "If one offers Me with love and devotion a leaf, a flower, a fruit or water, I will accept it." And here the intention, I can say with complete confidence, was pure.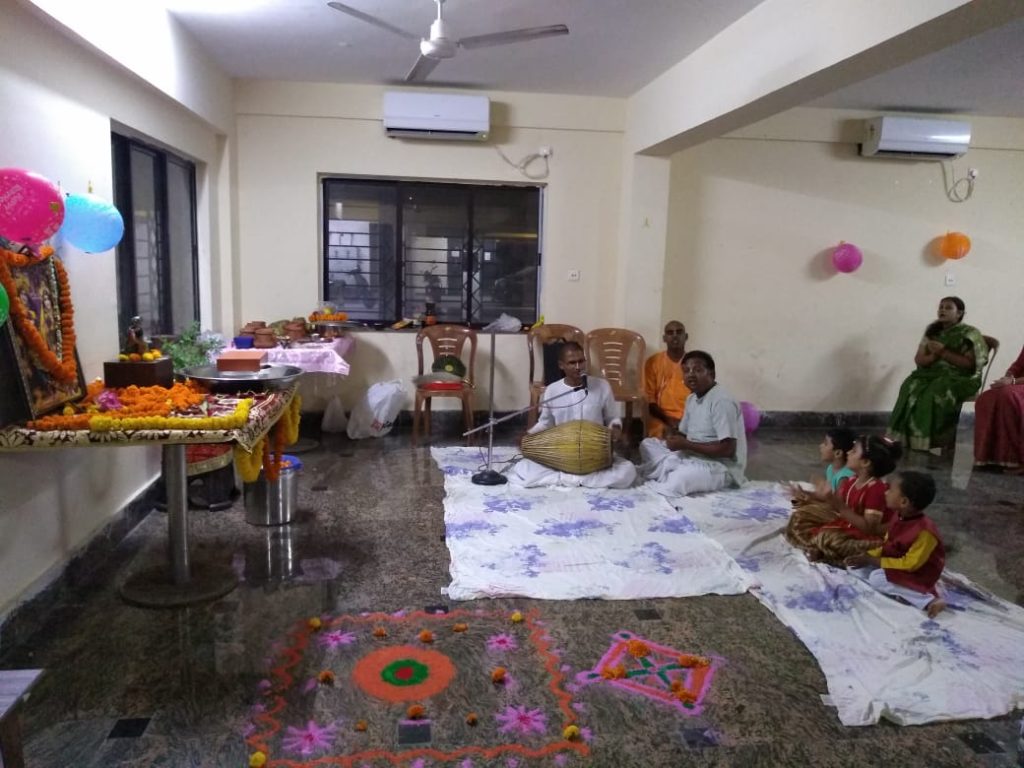 The arrangement was made in the community hall of the society which was decorated with flowers, colourful birthday balloons and lovely Rangolis. A gorgeous looking altar was prepared for the Lord. A huge and beautiful picture of Srimati Radharani and Lord Krishna was placed. On the same altar table arrangement was made to do abhishek of Lord Krishna and Srimati Radharani. Nine earthen lamps were lit on the table.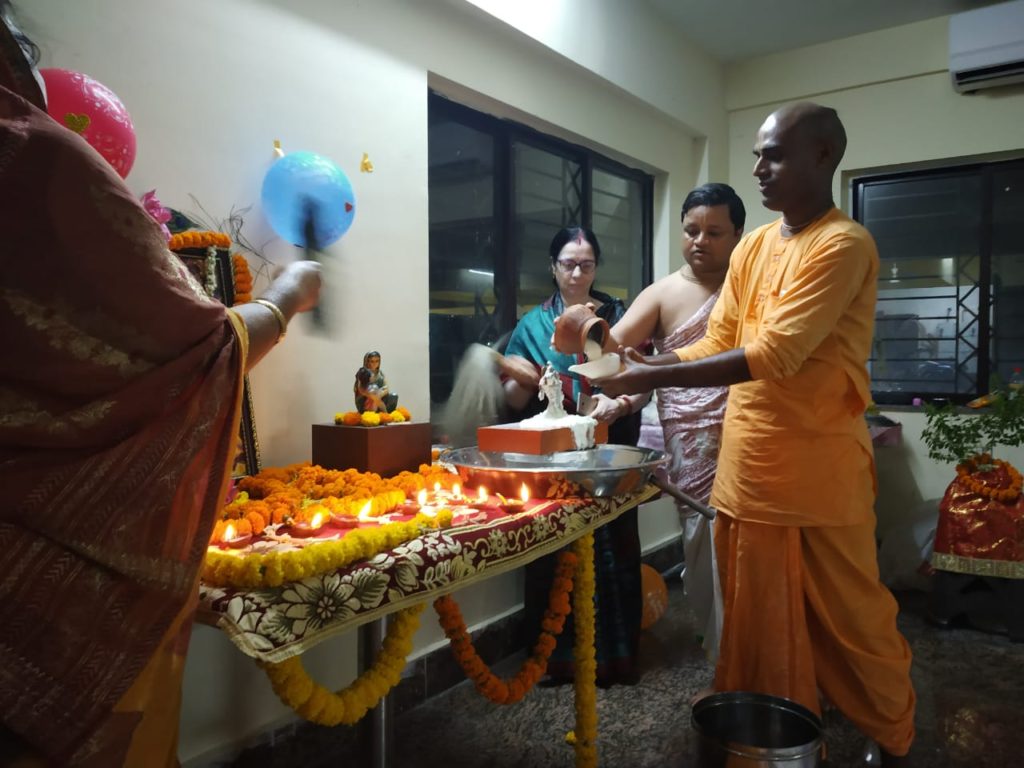 All the items required for the abhishek was prepared and kept in small earthen pots on a side table. The items used were – scented oil, til paste, milk, curd, ghee, honey, sugar candy water, rice powder, water mixed with cow dung and cow urine, rose water, sandalwood paste, coconut water and several pots of Ganges water.
HG Anant Bhagavan Prabhu and HG Sri Madhav Prabhu had also come from the Iskcon temple for the festival. Sri Madhav Prabhu sang melodious kirtan while Anant Bhagavan Prabhu did the abhishek. The abhishek items were first poured from the earthen pots to the conch shell and from the conch shell the sacred items were poured on the deity. After the abhishek Anant Bhagavan Prabhu spoke briefly about the importance of celebrating Janmashtami. And then we all chanted together one round of Hare Krishna Mahamantra.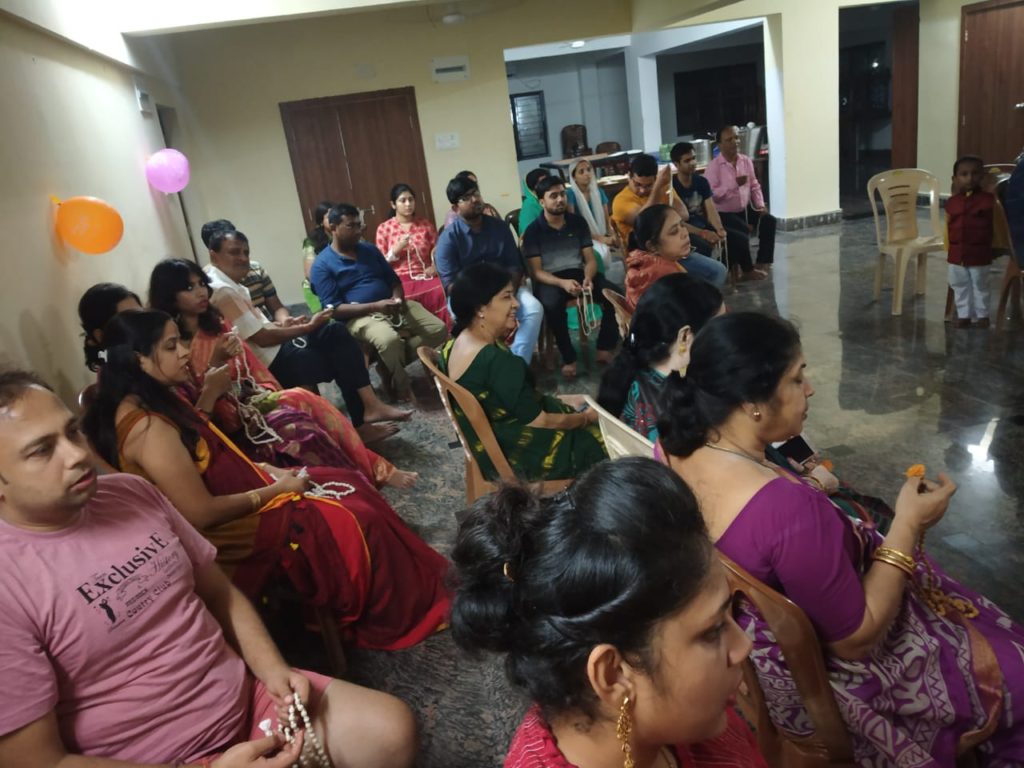 And at the end there was delicious Krishna prasadam for all. Prasadam comprising of khichdi, aloo dum and halwa was brought from the Iskcon temple and the quantity was good enough and every one of us relished it to our hearts content. We also enjoyed charanamrita.
The celebration which began at around 8:30 p.m continued till midnight. It was one of the best ways to celebrate Janmashtami, the appearance day of Lord Krishna. It was a memorable and joyful event.
Hope next year too we celebrate Janmashtami with same enthusiasm at Omni Tulsi.