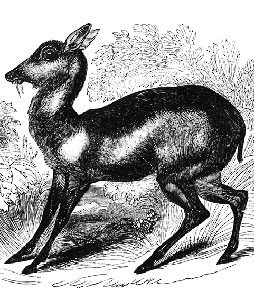 The Himalayan musk deer teaches a very important lesson of life. The musk is extremely expensive fetching more than 3 times its weight in gold. The aroma of the musk is so alluring that when it catches the deer's nose, he runs frantically in the forest day and night to find its source. Little did he realize that the source of the aroma lies within him. The musk is produced by the gland present in the stag's navel.
Like the musk deer we also most of the times look outwards instead of inwards. We try to search happiness externally and not internally. The true treasure many a times is very near to us but unware of our surroundings we fail to appreciate it.
Scriptures teaches us that the true treasure is the love of the divine which is within us. The human life is meant to uncover and discover that treasure. On this holy land of India time and again many saintly personalities have appeared to distribute the treasure of divine love. The land where these great saintly persons appear becomes blessed.
The city of Kolkata is sacred because prominent Vaisvana saints Bhaktivinod Thakuara, Srila Bhaktisiddhanta Saraswati Thakura, Srila Prabhupada laid the foundation of worldwide Krishna Conscious movement here and distributed the treasure of Krishna's love all over the globe.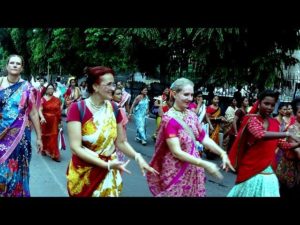 In the present secular world we mostly fail to give importance to spiritual personalities whose only business is to connect the forlorn souls to Krishna. Rather those who assist in gratifying our senses immediately occupies our heart and gain wide acceptability in the society.
So the media and the academia may many time ignore their massive contribution but if we try to study their life, their teachings and their conduct with an open mind then we would find that how these personalities selflessly strived hard to give us unadulterated love of Krishna.
Let us try to analyze the lives of these great saintly personalities who distributed the sublime teachings of the Vedas and how Kolkata occupied its prized position in shaping the future of the worldwide Krishna Conscious movement.
Reestablishing the mission of Lord Chaitanya
After few hundred years of Lord Chaitanya's disappearance, His pure teachings were lost. Bhaktivinod Thakura aka Kedarnath Datta who appeared in the 19th century revived the teaching's of Lord Chaitanya, the writings of Goswamis and prominent acharyas in such a way that the modern secular world could understand it and appreciate it.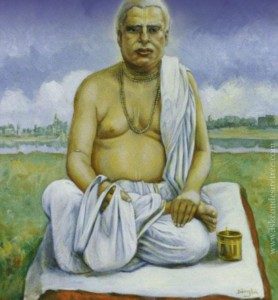 When the famous novelist Bankim Chandra wrote a book on Krishna, Krsnacarita, then he being influenced by western scholars had portrayed Krishna as an ordinary person having extraordinary qualities. But when the Thakura came to know about it then for four days without caring for food and sleep, he presented many arguments and logic from the scriptures to convince the famed novelist that Krishna is just not a mortal being but He is the Supreme being. Bankim Chandra incorporated many changes as suggested but when his book was published then the biased scholars criticized it because contrary to their views Krishna was not a mythical or an ordinary person in the book. It was a proof that Thakura was all alone fighting against the forces who wanted to belittle the scriptures. In fact Thakura's deep scriptural understanding and purity was helping in re-establishing the pure teachings of Lord Chaitanya.
Kolkata becomes the center of the spiritual movement
In Kolkata, Bhaktivinod Thakura wanted to establish a preaching centre. He got a place at 181 Manikatal Street (presently Ramesh Dutt Street). It came to be known as Bhakti Bhavan. The price of the house was Rs 6000. Many learned persons would assemble for meetings and discussions here and it was here where many books and articles were written. In 1885, the Thakura opened a press in Bhakti Bhavan and named it Caitanya yantra (Caitanya Press). He started regularly publishing Sajjana – tosani magazine. He published books such as Gita with his commentaries, Sri Caitanya Siksamrta, Sanmodana – bhasyam – a Sanskrit commentary on Sri Caitanya Mahaprabhu's siksastakam and many more. He founded Sri Visva Vaisnava Sabha in 1886 in Kolkata in which many educated people became its member.
Chaitanya Mahaprabhu's teachings reaches west
In 1896 he decided to reach out to the west with his book, Sri Gauranga – lila smarana stotram, which is based on the life and teachings of Sri Caitanya Mahaprabhu and contains 104 Sanskrit slokas. The book begins with 47 page introduction in English entitled – Sri Caitanya Mahaprabhu: His Life and Precepts. The introduction was especially meant for the English audience so that they can comprehend the meaning of the Sanskrit slokas. The book found its place in many educational institutions of the world. In fact several decades later one of Srila Prabhupada's disciples found it in McGill University in Montreal. In 1896 for the first time the teachings of Lord Chaitanya reached to the western world from Kolkata, it was also the same year when Srila Prabhupada was born in Kolkata who inundated the western world with Krishna Conscious message. Is it mere a coincidence or was Krishna's plan?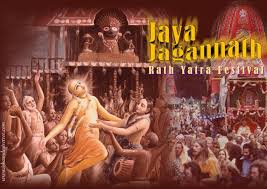 For establishing the temple of Lord Chaitanya
To construct Lord Caitanya's temple in Mayapur, Thakura began going from door to door in Kolkata. Anand Bazar Patrika wrote on December 6, 1894: Babu Kedar Nath Dutt, the distinguished Deputy Magistrate, who has just retired from the service, is one of the most active members. Indeed, Babu Kedar Nath has been deputed by the committee to raise subscription in Kolkata and elsewhere and is determined to go from house to house, if necessary, and beg a rupee from each Hindu gentleman for the noble purpose….we hope, no Hindu gentleman, whose house may be honoured by the presence of such a devout bhakta as Babu Kedar Nath, will send him away without contributing his mite, however humble it may be, to the Gaur Vishnupriya Temple Fund."
The mission continues
Srila Bhaktisiddhanta Saraswati Thakura carried the legacy of his father, Srila Bhaktivinod Thakuras. Acknowledging the fact that Kolkata has been the cultural centre of India, Srila Bhaktisiddhanta Saraswati Thakura too established his base in Kolkata.
He established Bhagawat Yantra (Bhagawat Press) in 1913 and Gaudiya Printing Works in 1923 in Kolkata. He continued publishing many magazines and books including the magazine Sajjana Tosani which he renamed as The Harmonist.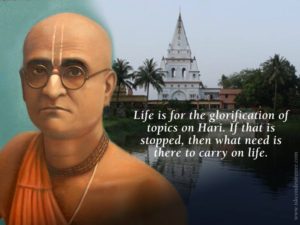 He preached boldly and asked his disciples to not compromise with philosophy at any cost. When his disciples went to Dacca (present day Dhaka, capital of Bangladesh) then they faced huge opposition from the professional gurus. These fake gurus asked people to boycott the preachers and not give them any support – money, place to reside, food, and even water. The disciples immediately sent a telegram to Srila Bhaktisiddhanta Saraswati narrating their hardships and in reply he said, "If necessary, survive by drinking the water of the Buriganga, but do not stop distributing the teachings of Lord Caitanya."
He established Sri Gaudiya Math in Kolkata at No.1 Ultadanga Junction road in 1920, it was later shifted to the marble temple in Baghbazar. The foundation of a new temple at Bag – bazar, Kolkata was laid in September, 1928. When it was finally inaugurated then it attracted large number of people.
On 12 October 1930 the Liberty reported:
On Sunday the 5th October last the streets of North Kolkata were scenes of a record procession on the occasion of the new Gaudiya Matha constructed in Bag-bazar. Devotees from different provinces of India, viz, Bengal, Assam, Bihar, Orissa, Madra, United Provinces, and the Punjab had been pouring into Kolkata for days before the ceremony. The sri – vigrahas of the Gaudiya Matha, Sri Gaura – Vinoda – Ananda Ji, preceded and followed by congregational chant of the holy name….the procession was about two miles long, the whole city seemed to be in a tremor, and it was a sight for the gods to see.
The procession attracted humongous crowd and was so popular that a local theatre replayed film coverage of it for nine consecutive days.
Sowing the seed of worldwide Krishna Conscious movement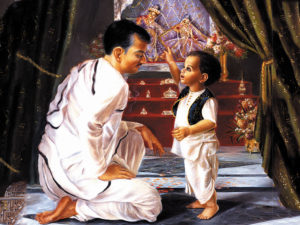 Kolkata is the place where Srila Prabhupada was born, he spent his childhood here under the love and care of his father and mother. His father always prayed and asked everyone to bless that his child, Abhay, becomes a devotee of Srimati Radharani. He studied here, got married here and worked here. And most importantly it was in Kolkata he met his spiritual master who planted the seed in his heart to preach the message of Lord Chaitanya. And it was from Kolkata on August 13, 1965 that Srila Prabhupada boarded the cargo ship M V Jaladutta to go to west to lay the foundation of worldwide Krishna conscious movement.
After successfully establishing ISKCON in the west and preaching to tens and thousands of people all over USA and Europe, Srila Prabhupada came to Kolkata to establish first temple of ISKCON in India at 3C Albert Road in 1971. Srila Prabhupada also inaugurated the Kolkata Rath Yatra in 1971.
Kolkata – the blessed city
People who are living in Kolkata are blessed because the beautiful city was chosen by great spiritual personalities to execute their mission. They have revealed to us the treasure of Krishna's love. Kolkata is also the gateway to Mayapur and within and around Kolkata are many places where Lord Chaitanya, Lord Nityananda and many acharyas have performed many pastimes.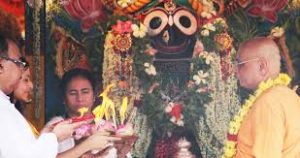 References:
Seventh_Goswami
A_Ray_of_Vishnu
Sri_Bhaktisiddhanta_Vaibhava
Srila Prabhupada-lilamrita