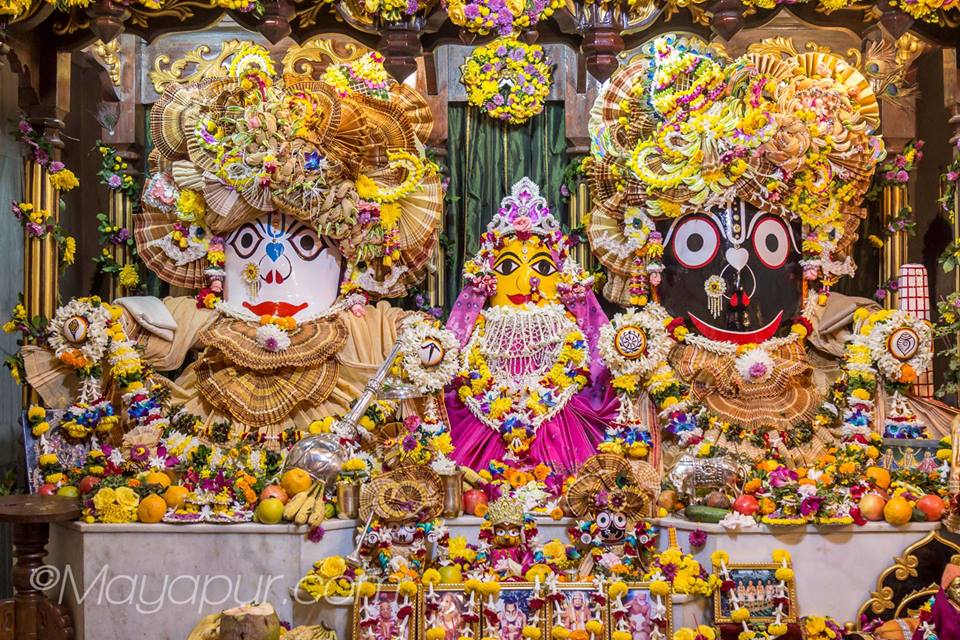 After installing the deity of Lord Jagannath, Lord Baladeva and Subhadra Devi, king Indradyumna wanted to know what is the best way of worshipping Lord Jagannath. Purushottama Kshetra Mahatmya describes that Lord Brahma had come for the installation of the deity of Lord Jagannath in Puri upon the invitation of king Indradyumna. The pious king requested Lord Brahma for guidance.  
Lord Jagannath explains king Indradyumna about his worship
Lord Brahma turned towards the deity and prayed, "O Lord Jagannath, please accept my humble obeisances. All glories unto you. Please be merciful unto this devoted king, Indradyumna. Please instruct him how to perform various upacaras, yatras, and vratas for your pleasure."
Lord Jagannath was pleased by the prayer of Brahma. He smiled and spoke to king Indradyumna. He gave elaborate instructions to king as how to worship him and please him. The Lord shared his likes and dislikes. The king was so happy to hear the transcendental words of the Supreme Lord. He made sure that Lord Jagannath is worshipped as per his desire in Puri.
Lord Jagannath is none other than Lord Krishna. Along with his elder brother Baladeva and little sister Subhadra, he is worshipped in a grand way in Jagannath Puri.
Lord Jagannath's deity and Lord Jagannath are non-different
The conversation between the king and the deity of Lord Jagannath proves that the deity of Lord Jagannath is non different from the Lord.
If we worship the deity with love, if we serve the deity with sincerity, if we offer him prayers with our hearts, then the deity will also reciprocate with us. The pure devotees of the Lord are able to realize this. For them there is no difference between the deity and the Lord.
But people like you and me fail to experience the presence of the Lord when we see his deity because our consciousness is still not pure. Our heart is still afflicted with the disease of lust, greed and anger. But if we continue worshipping the deity of the Lord then our consciousness will gradually become pure.
With purified consciousness, we will be able to experience the presence of the Lord. We will be able to see him, talk to him and love him the way we see, talk and reciprocate love with our loved ones.
Srila Prabhupada installed deities of Lord Jagananth in Iskcon temples
Lord Jagannath appears in the deity form to give us an opportunity to serve him and purify ourselves. So, Srila Prabhupada installed the deities of Lord Jagannath, Lord Baladeva and Subhadra Devi all over the world and taught the devotees how to take care of the deities and how to worship the deities. He also explained that if we worship the Lord with love and devotion then you and I can perfect our life.
Srila Prabhupada installed the first deity of Lord Jagannath outside India in San Fransisco, USA. He then renamed the city as New Jagannātha Purī. Prabhupada had a desire that all the residents of San Fransisco become devotees of Lord Jagannath. He wanted that when anyone thinks of San Fransisco, they should remember Lord Jagannath.
Lord Jagannath Mantra
After installing the deity of Lord Jagannath, Prabhupada chanted Lord Jagannath Mantra – jagannāthaḥ svāmī nayana-patha-gāmī bhavatu me. He said, "This is a mantra for Lord Jagannātha. Jagannātha means 'Lord of the universe.' 'O Lord of the universe, kindly be visible unto me.' It is very auspicious that He has chosen to appear here."
This mantra is part of Shri Jagannath Ashtakam. Adi Sankracharya composed Shri Jagannath Ashtakam. Sri Chaitanya Mahaprabhu would recite this prayer in Jagannath Puri for the pleasure of the Lord.
Devotees also chant following mantra while offering prayers to Lord Jagannath, Lord Baladeva and Subhadra Devi
Nilachala Nivasaya
Nityaya Paramatmane
Balabhadra Subhadrabhyam
Jagannathaya Te Namah.
"I offer my respectful obeisances to Lord Jagannath who is the Supreme Lord of the entire universe and who is residing in Nilachala (Puri) with his elder brother Lord Baladeva and younger sister Subhadra Devi."
First Rath Yatra of Lord Jagannath outside India
Prabhupada also explained how to organize different festivals of the Lord especially the Rath Yatra or the chariot festival. First Rath Yatra of Iskcon was celebrated in San Fransisco under the guidance of Prabhupada. In fact, it would be correct to say that the first Rath Yatra outside India was celebrated in San Fransisco in 1967.
In India the first Rath Yatra of Iskcon was organized in Kolkata. Thousands of people participated in this great festival. Prabhupada personally supervised it.
Today Iskcon temples celebrate Rath Yatra in all the major cities of the world including India in which millions of devotees of Lord participate.
How to celebrate Jagannath Rath Yatra at home?
Last year, 2020, because of Covid pandemic people were not able to participate in Jagannath Puri Rath Yatra. Only the temple priests participated in the festival. Similarly, Iskcon temples too did not take out Rath Yatra procession last year.
This year (2021) too the situation is grim. Covid Second wave is killing hundreds of people daily especially in India. So, this year (2021) also people won't be able to participate in Rath Yatra festival.
But even if Lord Jagannath chariots does not come on the road but still we can celebrate this great festival at our homes. Srila Prabhupada has shown us the way. He celebrated Rath Yatra festival at his home when he was just a small child with his friends and family members.
If possible, you can make a small cart at your home. Today most of the devotees might be having small deity of Lord Jagannath, Lord Baladeva and Subhadra Devi. If the deities are not there, then you can also make the deity at home using chart paper or with other household items. If not, then you can use the pictures of the deities. Now pictures are readily available these days and you might be having it for sure.
You can beautifully decorate the cart and put the deities (or pictures) on the cart. Prepare nice food and offer it to the Lord. In your home only along with your family members you can pull the cart.
While pulling the cart you can sing Hare Krishna kirtan and chant Lord Jagannath mantra – jagannāthaḥ svāmī nayana-patha-gāmī bhavatu.
Worshipping Lord Jagannath, the Lord of the universe is easy and simple. The Supreme Lord wants nothing from us but love. If we serve the Lord with love, devotion and proper attention then Lord becomes pleased. He frees us from all the sins and makes us pure. When Lord is happy with our service, our life becomes perfect.